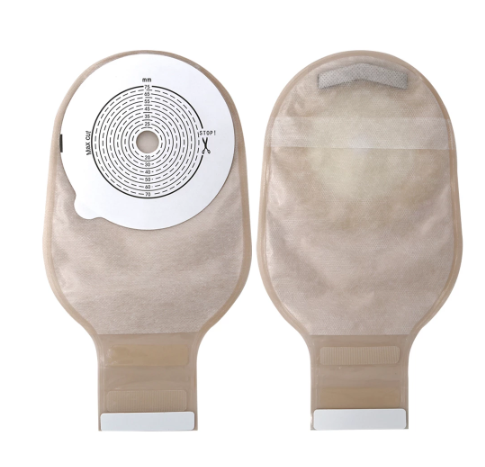 One-Piece Y1120
One-Piece Ostomy Bags
Products feature:
Odor Barrier:EVOH film with strong odor barrier ability, can effectively prevent odor overflow in the bag.
Medical Adhesive :Medical hydro colloid ,skin friendly,suitable for most people.
Non-woven Fabric:Soft and comfortable to effectively reducing friction.
Products Specification:
Item: Y1120
Brand Name: HDL-HENDRY
Max Cut: Suitable for stoma diameter from 20 to 60mm.
Bag Material: EVOH
Baseplate Material: Hydrocolloid
Bag color: Beige
With Carbon filter: YES
Expiration Date: 3years
Volume: 600ml
Certificates: ISO13485 FDA CE
Package: 10 Ostomy Bag+1 Measure Card+1 Instruction book.

Materials:

1.   Flange: Skin Hi-match Cureguard hydrocolloid

2.  Pouch:  5 layers extuded odor seal film

3.  Color: Transparent/Beige

4.  Filter: Active carbon bar filter

Packing info:

20pcs/box, 20boxes/ctn

   

   Specification:

       1. Flange size: 10cm,

          Thickness 0.75mm      

       2. Maximun cutting: up to 60mm

       3. Pouch size: 14.5cm x 26cm

       4. Elastomer drainage

       5. Water-resistance nonwoven cover (single side)

       6. Pouch color: transparent (suggested) or beige

       7. Volumn: ≥550ml

Key advanced:

Skin barrier:

1. Very soft and comfortable

2. High-Match to skin micro-surface, block the leakge 

3. Less skin irritation can occur.

4. high liquid absorb rate, avoid skin maceration

Pouch film:

1. odor-free in both dry or moisture situation

2. noiseless and very soft

3. Safety-seal technology, can endure 20kgs sudden

pressure.
Skin High-Match

Instead of using high adhesive material, we

improve the pouch adhesive ability by

increasing the adhesive area onto the skin.

Adhesive material matches to the micro-

surface of the skin, enter into the wrinkles

d block the leakage chanels.

Less skin irritation will occur by the Skin

High-Match technology

No hurt when peel off the pouch from skin.
No Odor No Distance

Uncomfortable smell always troubled ostomies a lot.

Hendry uses soft film which can seal odor

inside the pouch tightly. No smell can be felt

even in very close distance.

The odor-seal function will not be influenced by

the high moisture inside the pouch, and can

lasting a longtime until you change the pouch.

Hendry pouch allows you embrace your life

and those who you loved without distance.